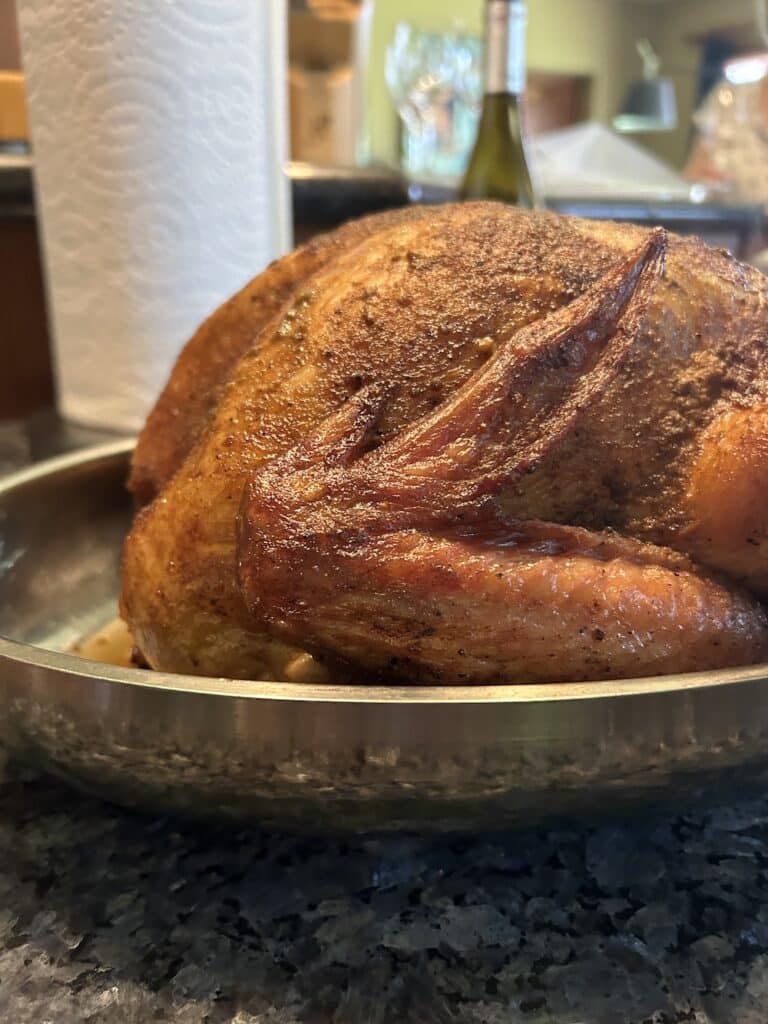 We love us some smoked turkey legs. But when we're craving turkey – I mean Turkey with a capital "T" – a more traditional roasted flavour often comes to mind. So we were curious how the big bird would fare on our Yoder YS640S Competition Smoker – we'll say up front that we were very pleased, and impressed with how easy it was to prepare.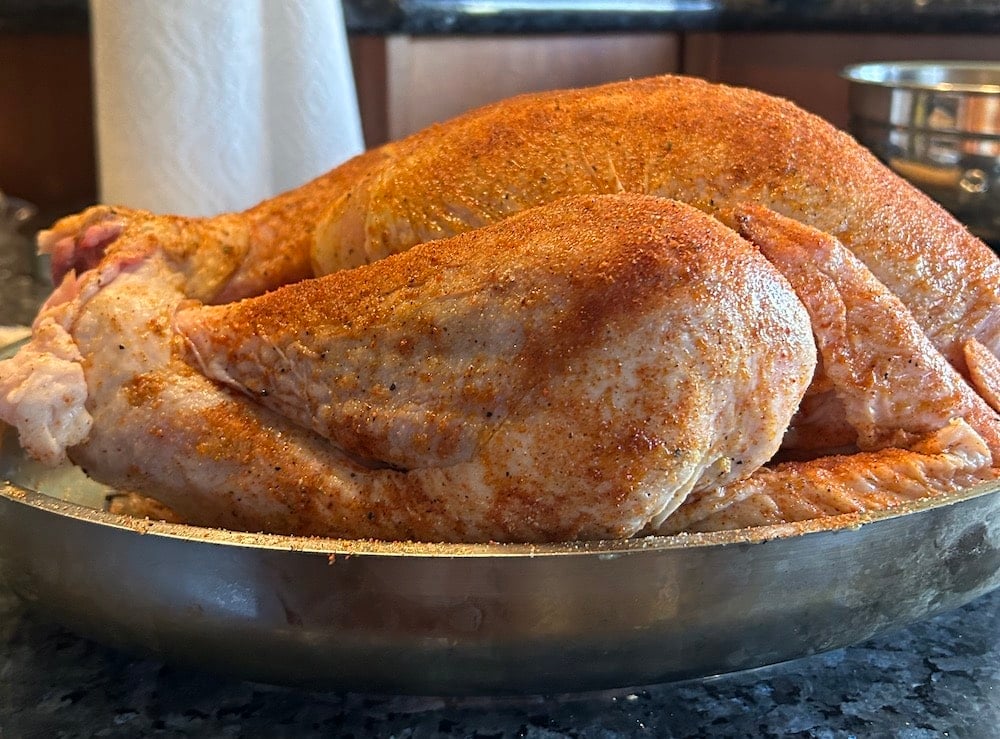 We began with a frozen turkey thawed over several days in the fridge. On cooking day, we removed it at ~ 10:30 am. We rinsed, patted dry with paper towels, and air chilled in in the fridge until 12:30. Then, we oiled and seasoned it up, and popped it back in the fridge once more for a few hours. We got our Yoder going at ~ 2:30pm, giving it about 30 minutes to heat up to 300 F.
IMPORTANT NOTE: we did up our bird in summer with light, crisp fixings and sides. But it certainly got us thinking that a Thanksgiving turkey on the Yoder has a ton of advantages! Besides the turkey's deliciousness (and close-to-roasted flavour that should please even your most traditionalist guests), you've just freed up your kitchen for a less cramped and chaotic holiday prep. Read on for some tips and ideas!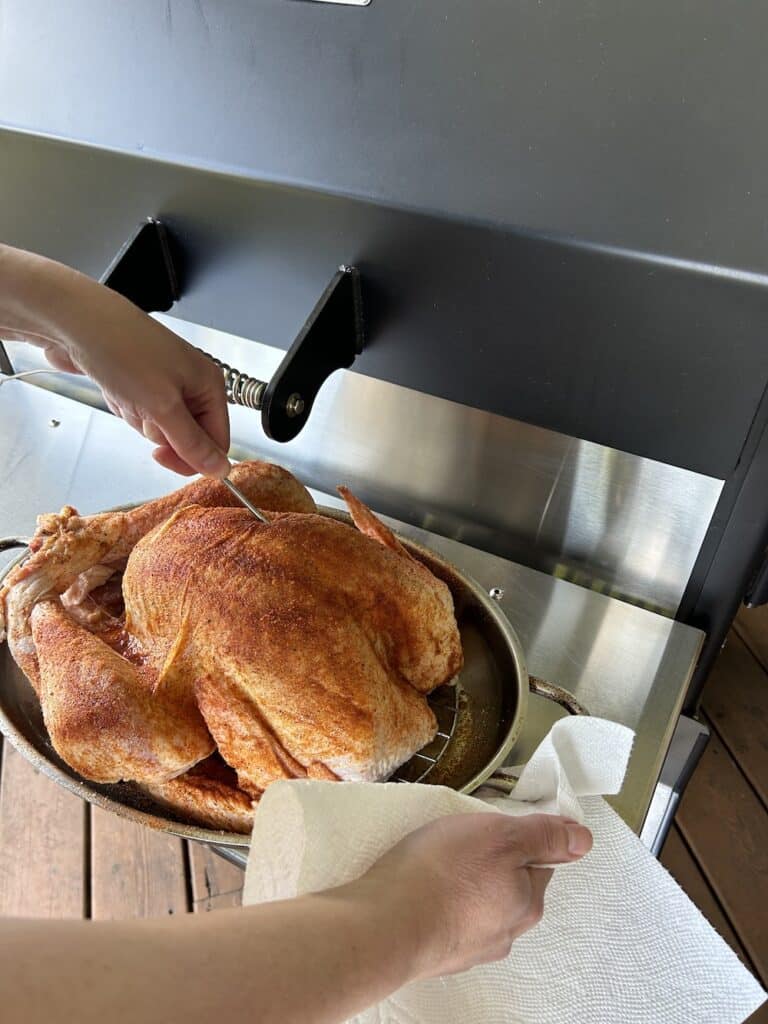 Once our bird was oiled up and seasoned and ready to roll, we stuck a probe in the breast. I know I'm a broken record when I say that the Yoder's wireless FireBoard monitoring is awesome. You can keep an eye on your cooking and meat temps remotely – so convenient, especially on a hectic party day.
[Oh yeah – worried about using your Yoder Pellet Grill in colder temps? No need. Check out this article on the Thermal Jacket designed to keep your Yoder performing when the thermometer drops.]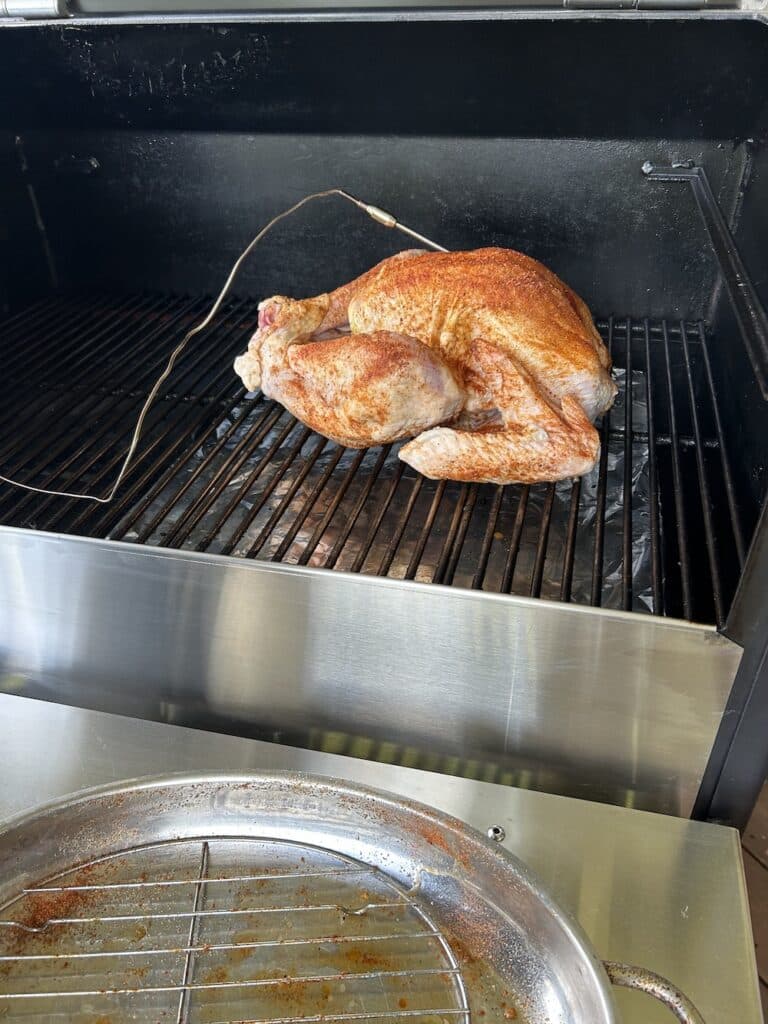 In our competition-edition Yoder, we can't get over how small our ~ 5 kg (~ 11 lbs) looks in the oven. Obviously, there's room for bigger birds – even multiple birds if you're feeding a big, hungry group.
Now for the hard-to-believe but not hard-at-all part: we closed up the oven and virtually walked away from the bird for the next 3 hours and 15 minutes. Other than popping in to baste the breast twice with melted butter, that's all we did. Our indoor kitchen and our time was open for all the other cooking, cleaning, prepping, visiting and snacking a gathering (even a Thanksgiving gathering) entails.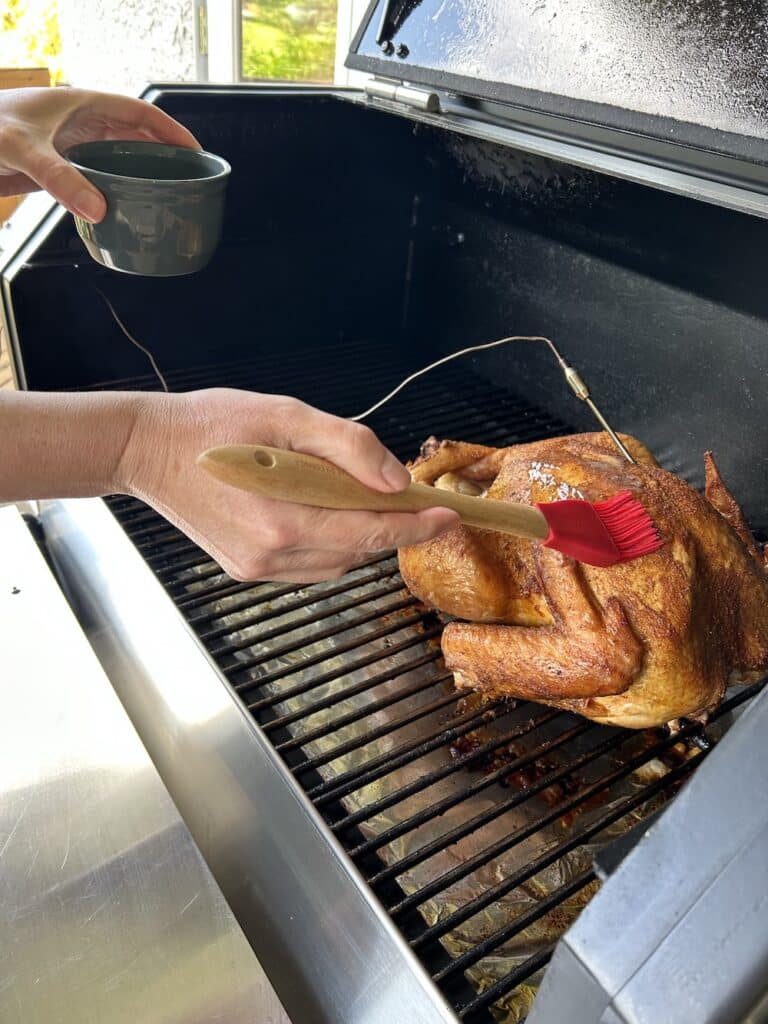 After 3 hours and 15 minutes on our Yoder, the turkey was done and it was glorious. (Keep your eye on the temps, of course. According to the FDA, your turkey needs to reach an internal temp of 165F.) We brought it in and covered it with foil, and topped with a clean dish towel as it rested to keep things warm and snug. Wow – does a turkey stay hot a while. We rested it for about 40-45 minutes, but are convinced it would have been piping hot an hour later.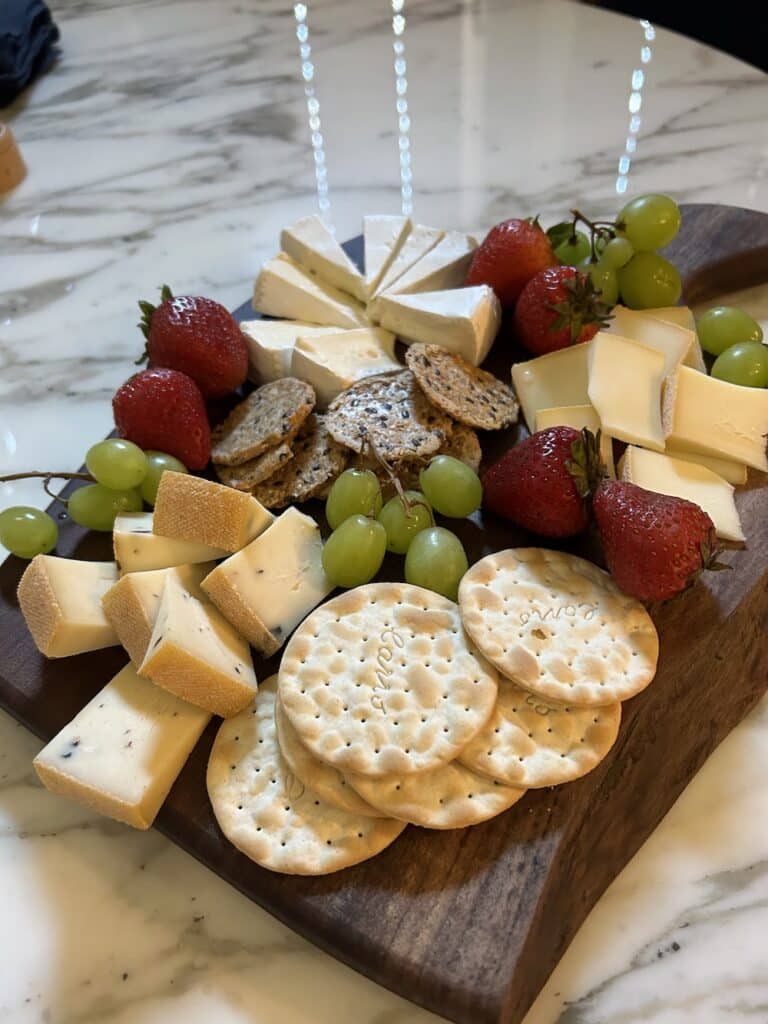 What we snacked on while we waited: just had to show off my cheese and cracker board above, featuring both traditional Oka and Oka Mushrooms and Truffle cheeses, a wheel of brie, assorted crackers, and some fresh strawberries and green grapes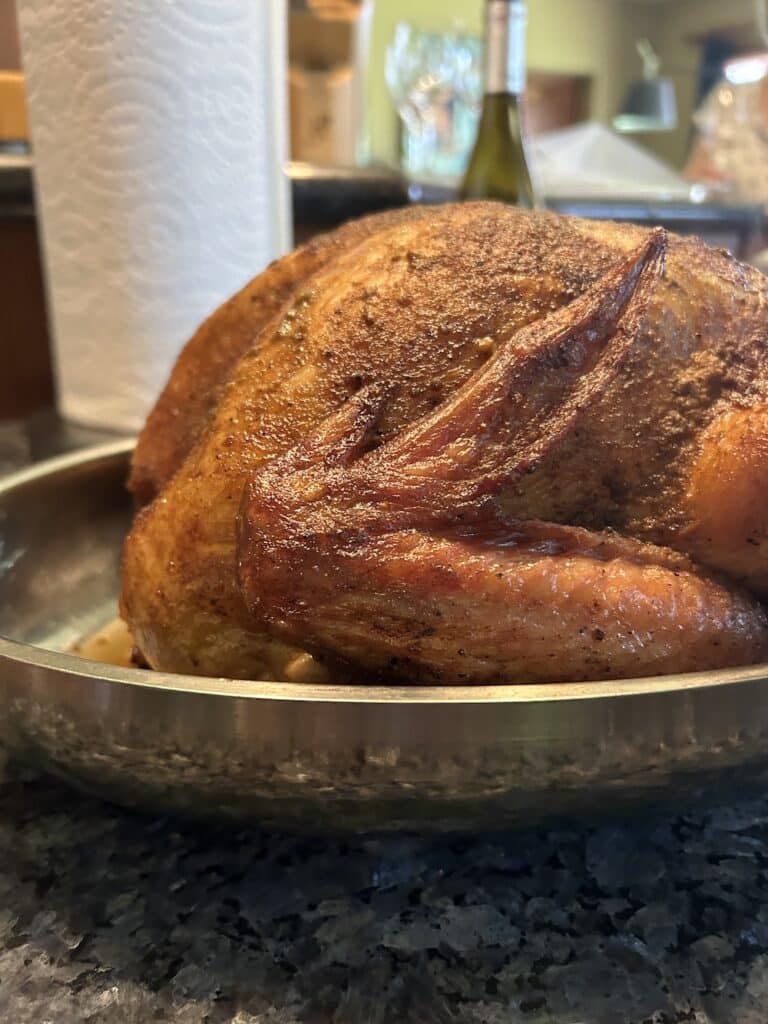 And here it is…ready to carve.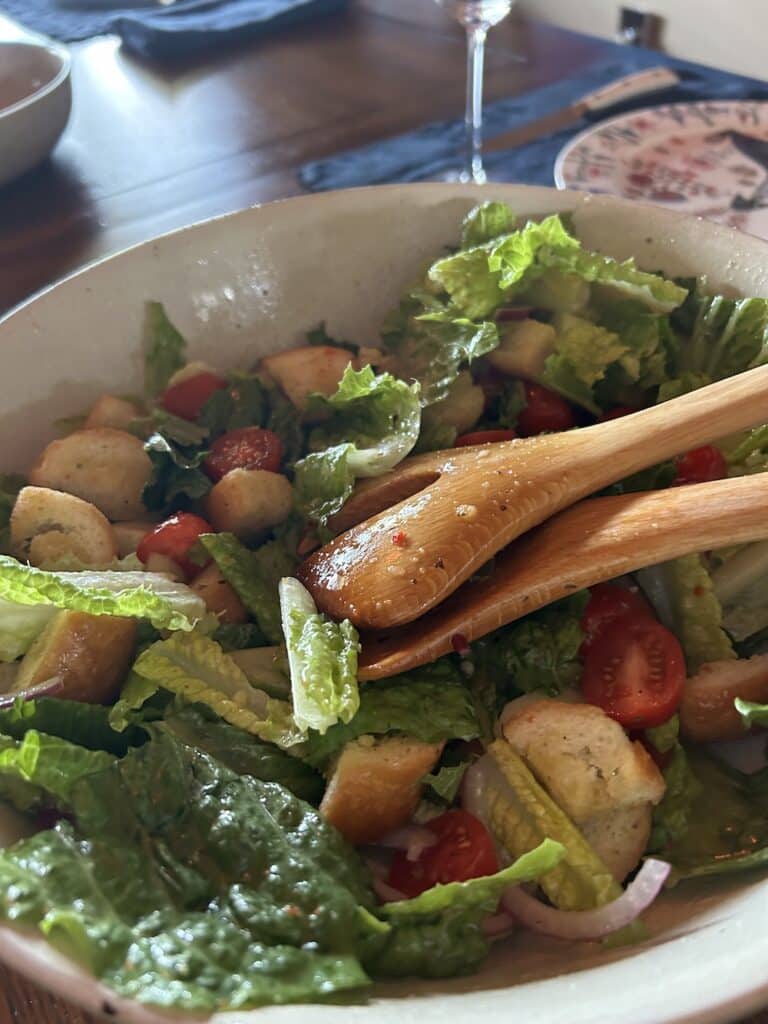 To fit the summertime vibes of this bird, we went with a zesty green salad tossed with a bright Italian dressing, and homemade garlic croutons.
But there is no reason you can't whip up more traditional Thanksgiving fixings to accompany the delectable Yoder-smoked turkey – we're thinking mashed potatoes, cranberry sauce, roasted veggies, and your family's fave casseroles and sides. (We haven't quite figured out how to do homemade gravy since we're not getting any of the necessary juices from over-roasting in a pan — but there are store bought options that can suffice!).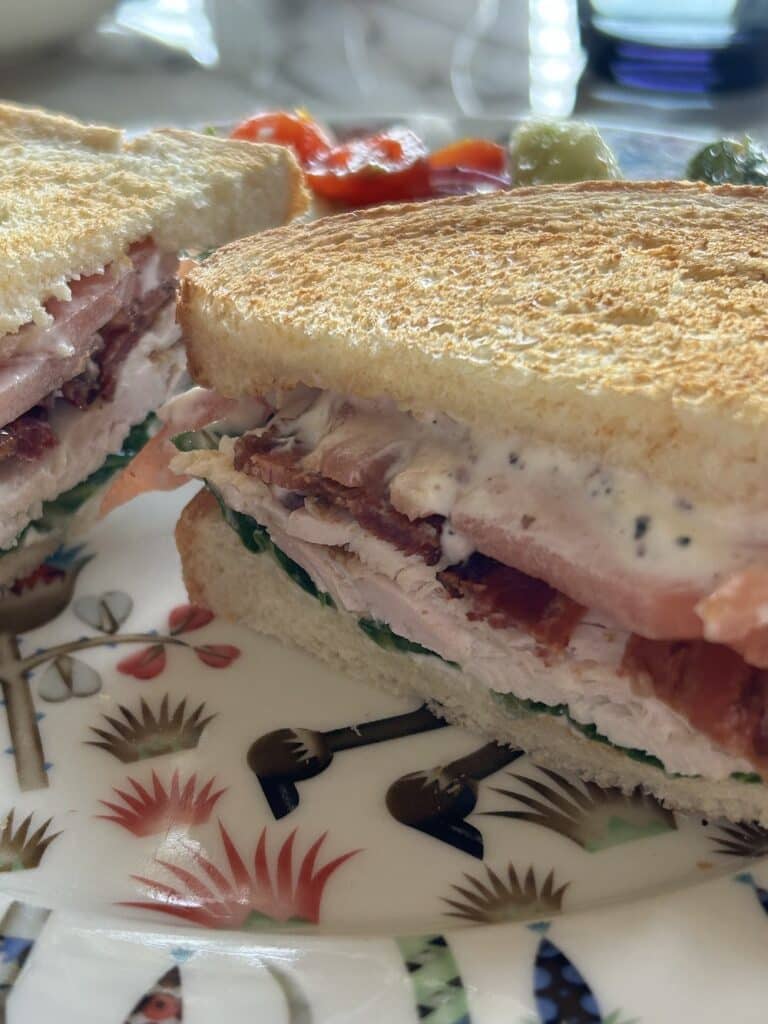 And of course what would any Turkey or Thanksgiving feast be without the leftovers! We turned ours into a delectable Club Sandwich, and the next day we went with a Chef Salad.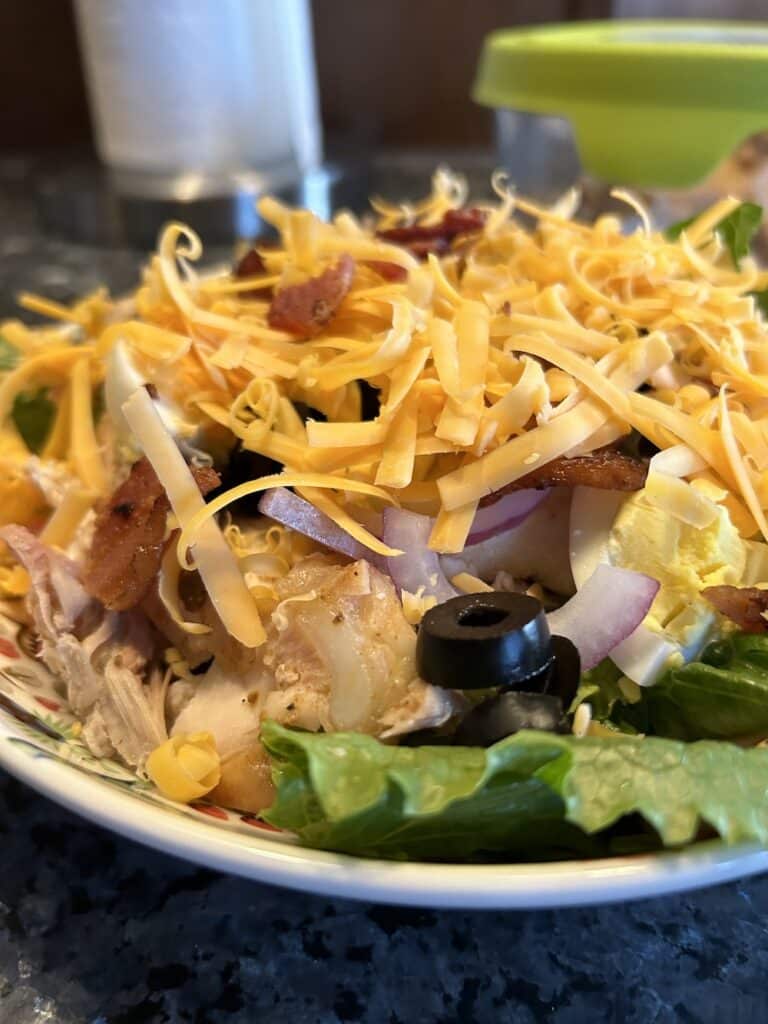 We're all for traditions — but sometimes it's time for a new one. Consider cooking your turkey on a Yoder Smoker this year. Happy Thanksgiving!