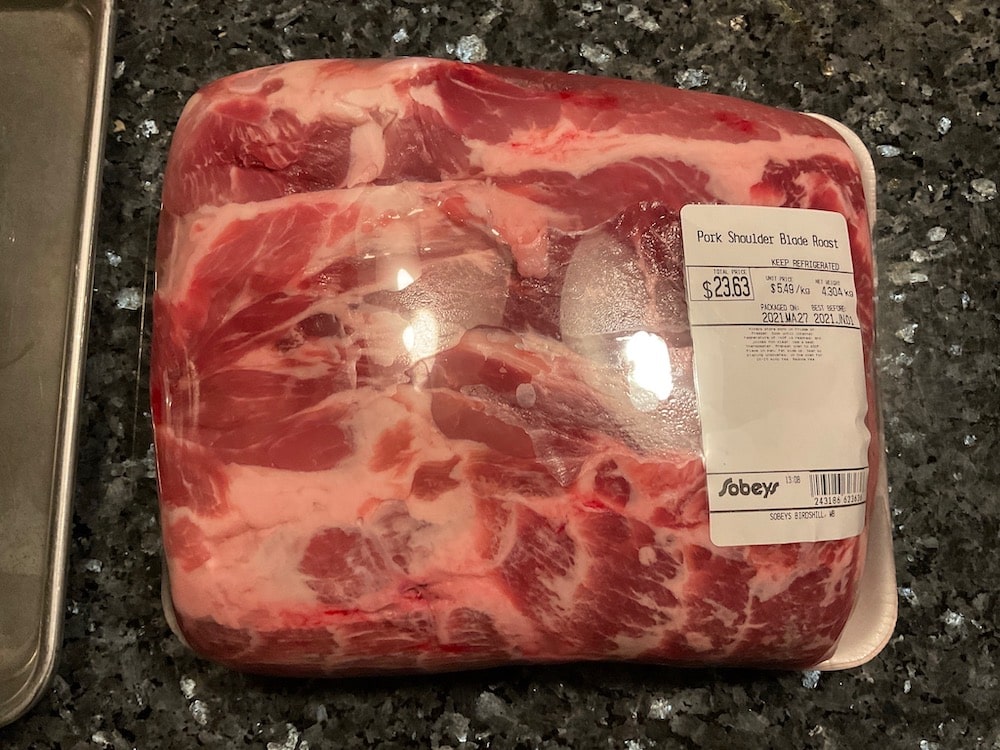 One of the first things we tried on our new Yoder Smoker's YS640S Smoker was a 9 1/2 lb. (4.3kg) pork shoulder blade roast. Turned out that pulled pork heaven was a mere 14 hours or so away. Did we learn some stuff? Yup. Would we tweak things next time around? Sure. But was there a delicious learning curve to be had? You'd better believe it.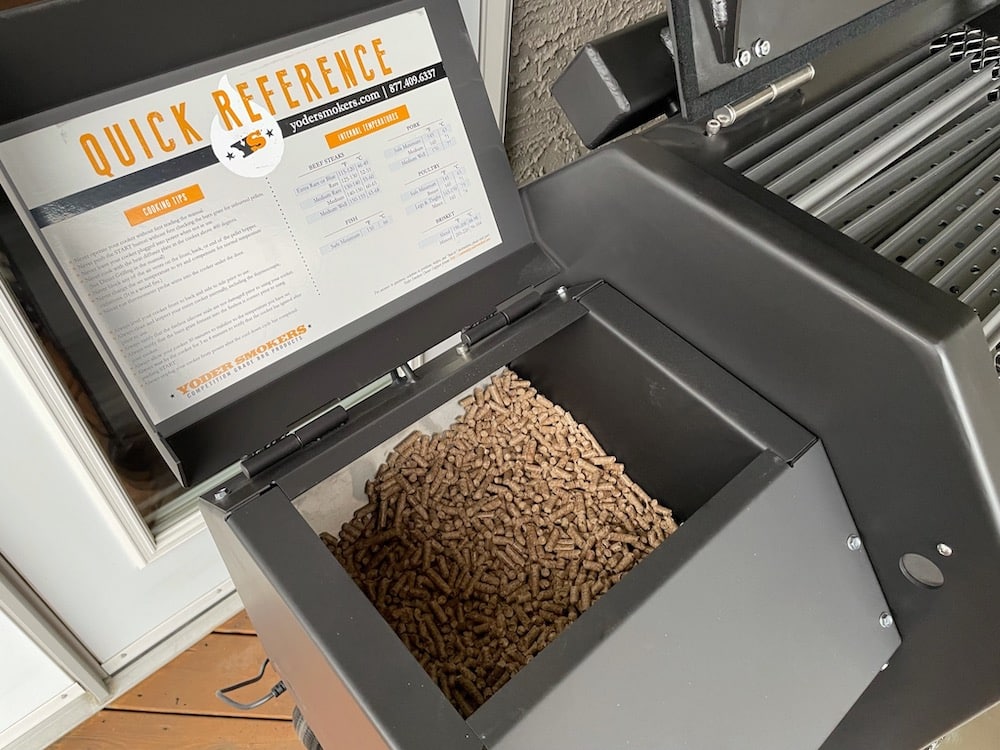 Our epic day began at about 4:30 am to get the smoker going. (The alarm was set for a more decadent 5:00am wake up call, but we just couldn't wait.) We loaded up the hopper to the max with 20lb of wood pellets (Pitmaster's Choice Premium Fruit Blend Pellets to be exact). We set the smoker for a super-low 200F and waited about 30 minutes for it to get to temp.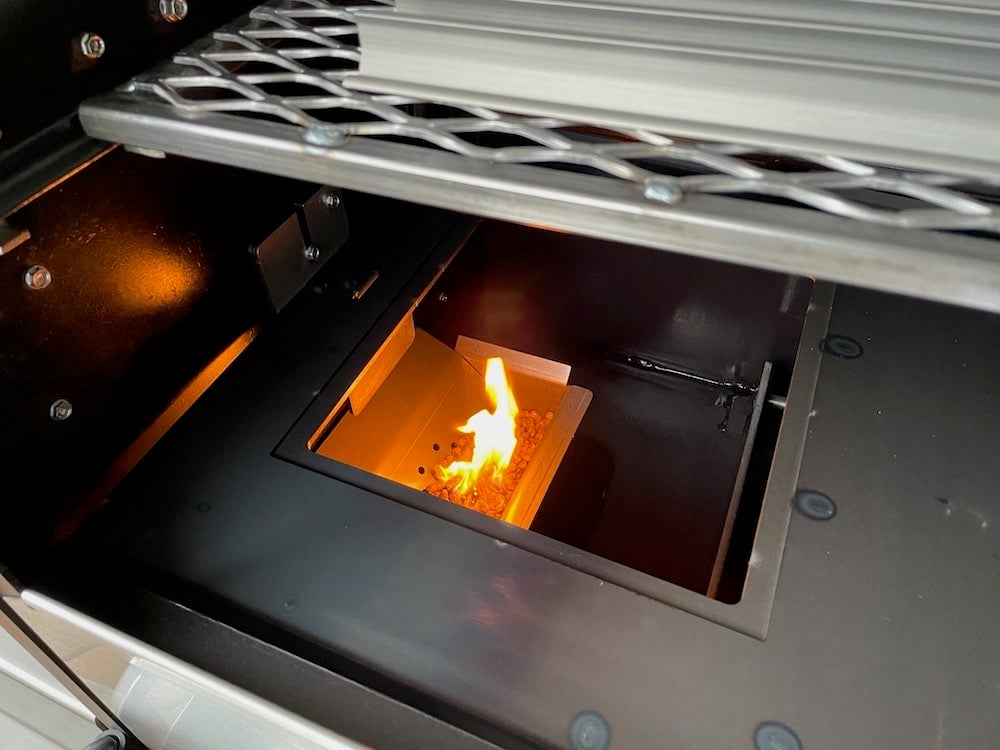 Found the fine looking roast below at my local grocery store where pork shoulder roasts happened to be that week's featured item. Always nice when that happens.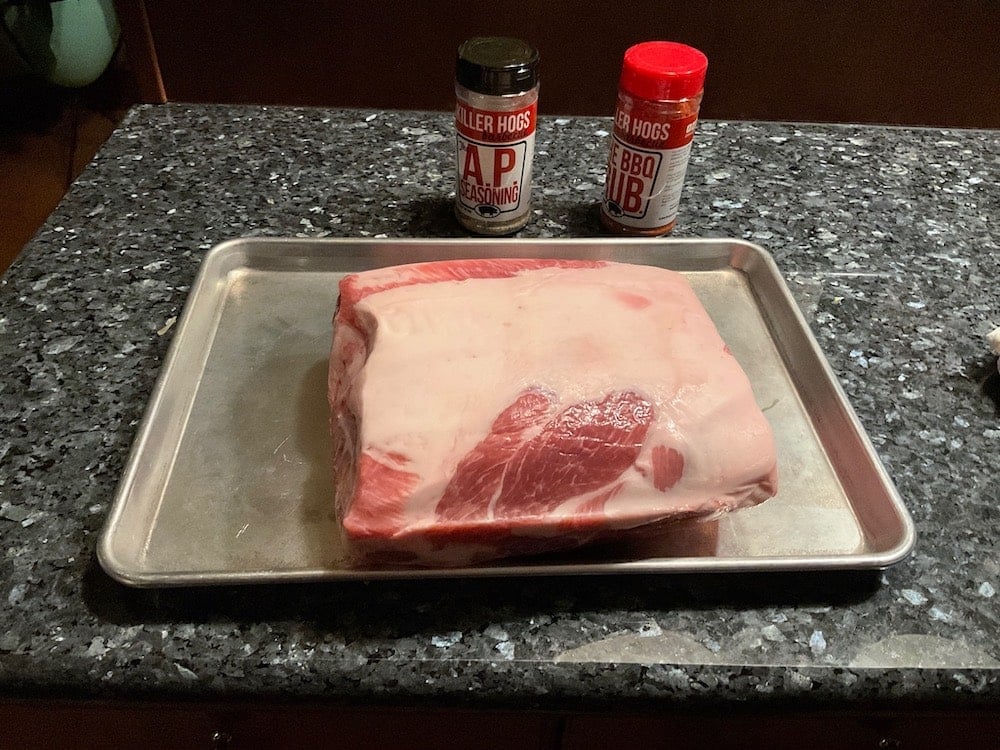 As we waited for the smoker to be ready, we rubbed the roast with some canola oil (mustard would have worked, too) then seasoned with a one-two punch from Malcolm Reed's Killer Hogs line of spice blends: A.P. Seasoning and The BBQ Rub. (For you Grill Nation Canucks out there, we order our Killer Hogs and other premium BBQ spices spices from The Rub Shack located in London, Ontario. Great selection!)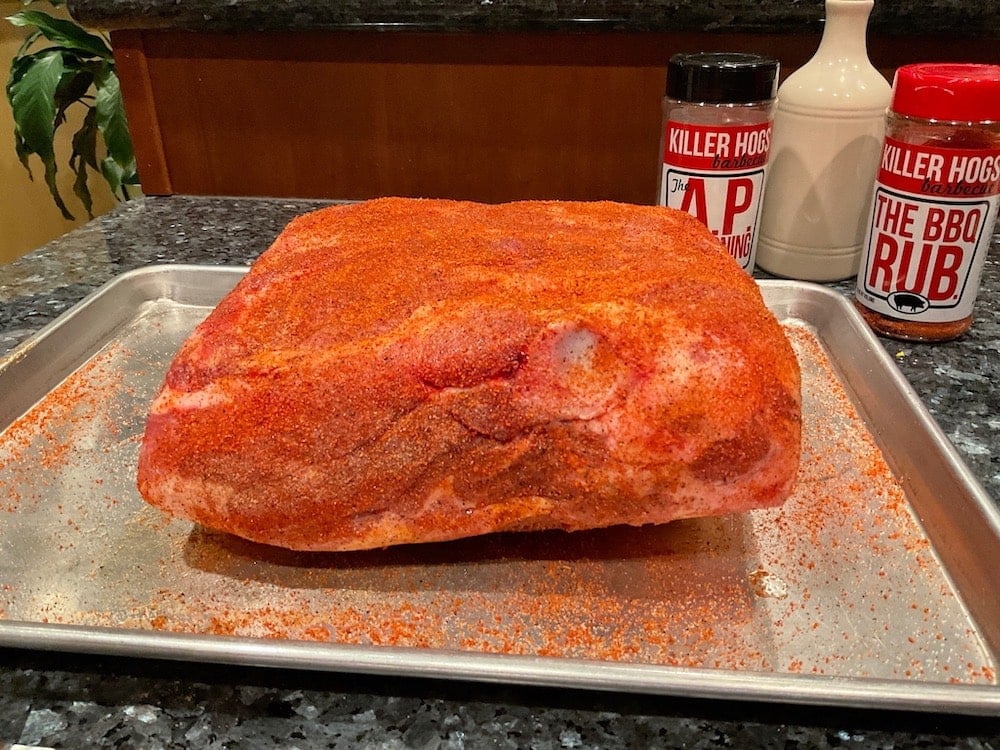 For our cooking method, we decided to follow pitmaster Malcolm Reed's ultra low-and-slow, no-wrap pork shoulder method. Definitely check out his detailed video tutorial for a masterclass session.
The no-wrap method aims to infuse adequate smokey goodness into the meat and allow the roast to develop a beautiful bark. You're shooting for an internal temperature of about 200F (195-205F). But you do need time. Lots of time. (In the video, Reed's roast takes ~ 14 hours, and ours came in around the same. More on this below.)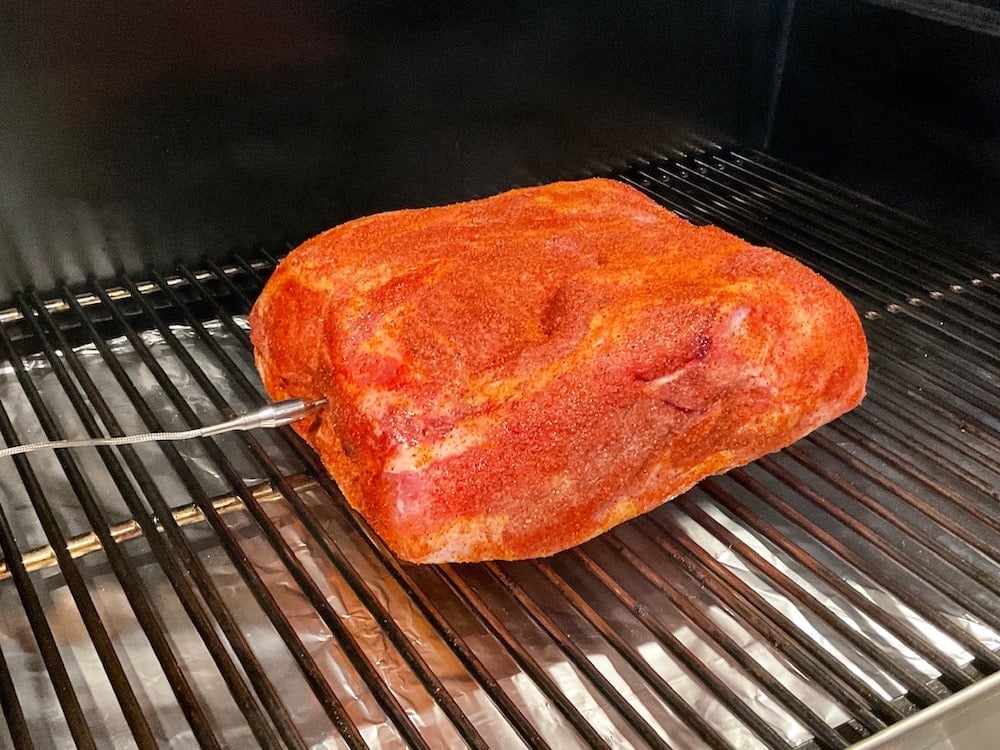 For hours and hours, our roast was a-smokin'. We kept the smoker at 200F for about 12 hours. During that time beginning at about the 8 hour mark, the roast's internal temperature stalled out as expected between 158-170F. It literally wouldn't budge. (Using our smoker's built-in Fireboard technology, we were keeping track of all this remotely with an app – but we did step out on the deck fairly often to peek.)
This 'stall' point is of course the point where other methods have you wrap the thing, urging those internal temperatures to keep on rising.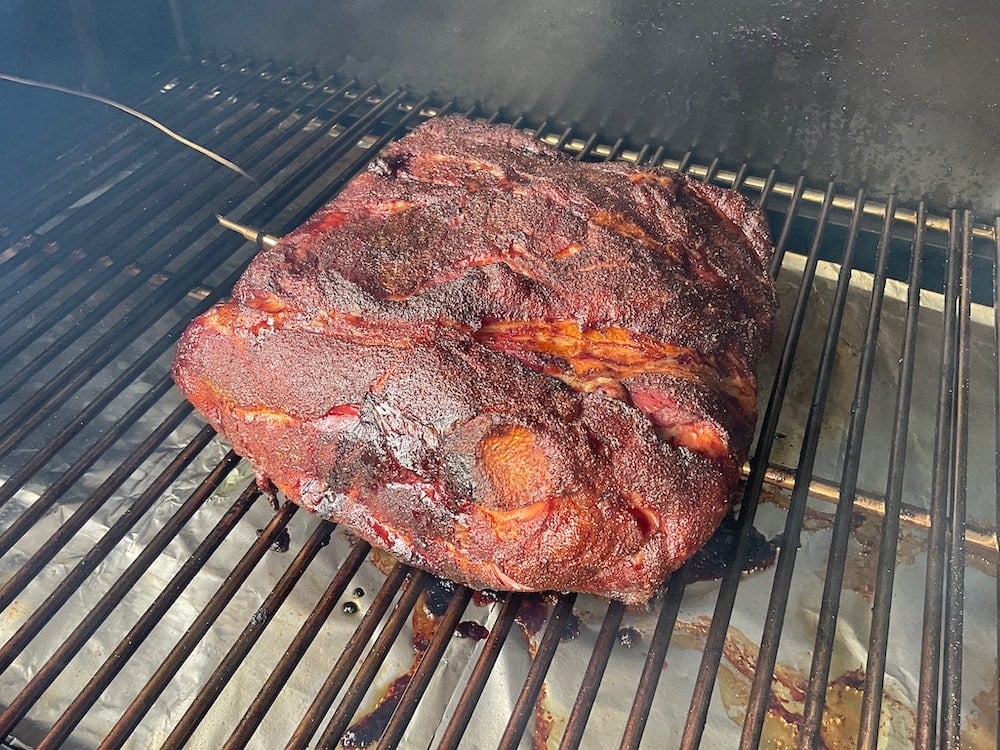 We waited as patiently as we could through the stall. But after about 4 hours seeing no change (so, about 12 hungry hours now into the process) we decided to bump up the smoker's temperature to 250F. It was getting late, we were getting hungry, and we'd been smelling smoked meat all day for Pete's sake. Anyway, raising the temperature got things moving in the right direction.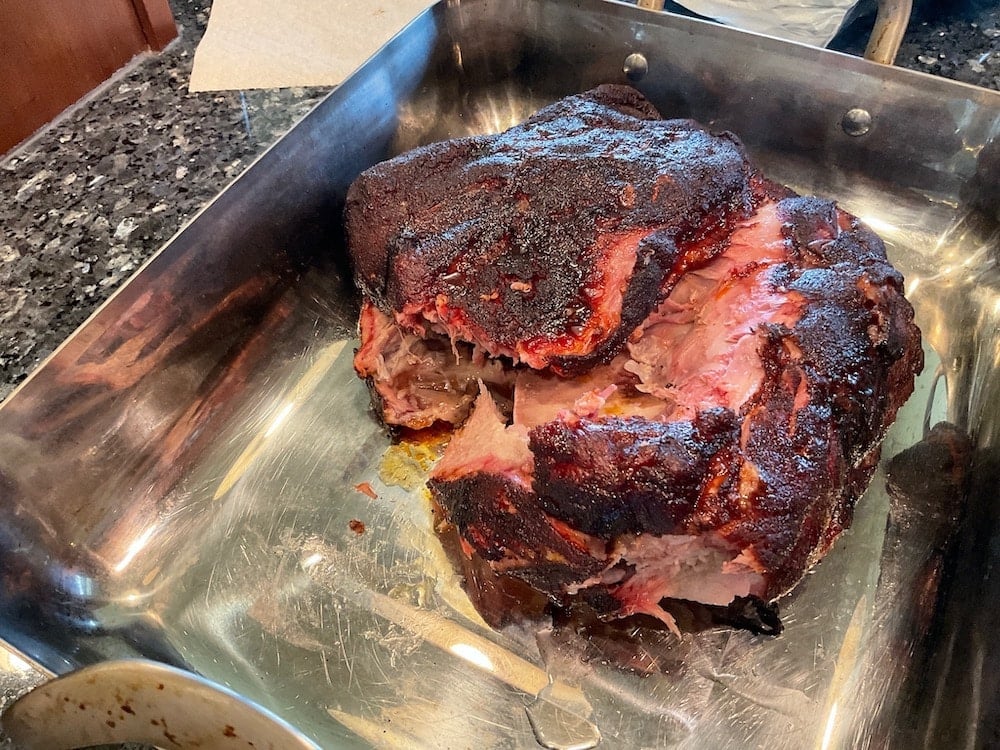 The roast came off the smoker at about 7pm with an internal temp of 190F (a little below what Reed recommends). This was 14 hours after we put it into the Yoder.
Then we had to rest it for about 30 minutes which may have been the hardest part of all. But look at these pics – the meat is as tender and buttery as it looks, and the bark had a pleasing bite.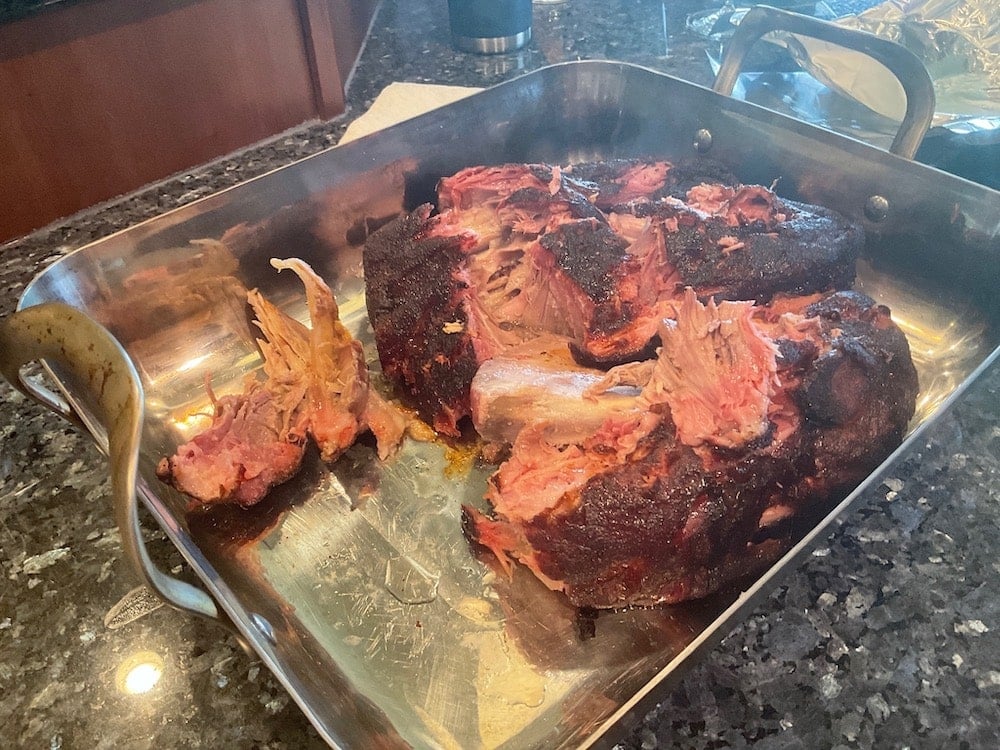 These Bear Claws are an indispensable tool for pulling the pork apart.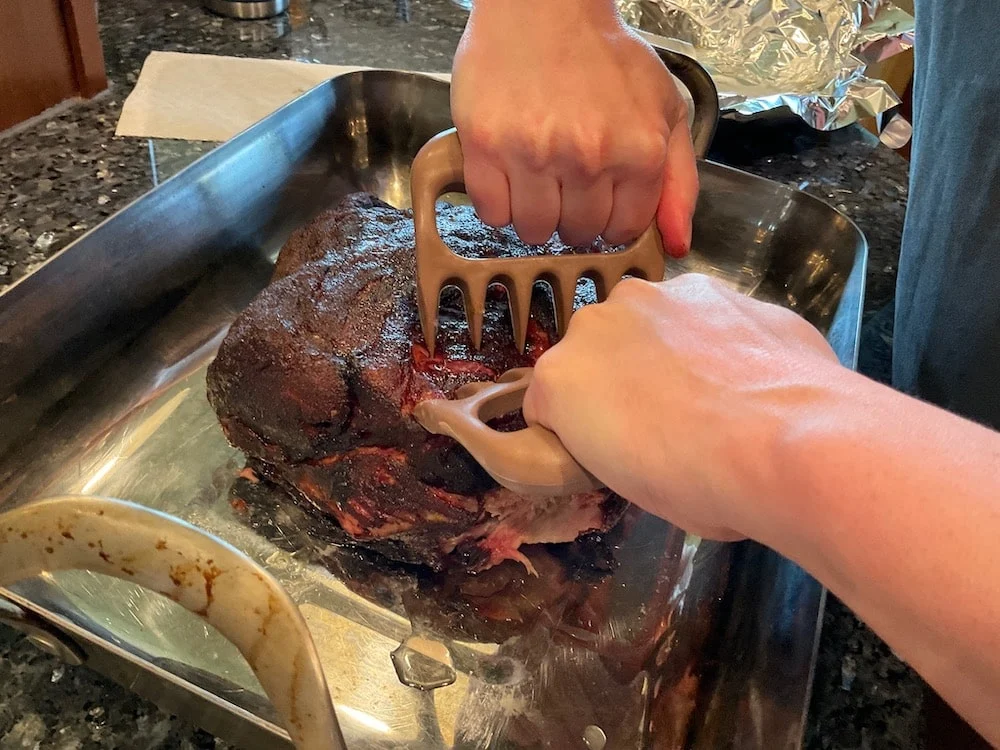 …and look at what we made! Mmmm-mmm. We feasted on pulled pork sandwiches for days and shrink-wrapped and froze three generous portions for future meals. Hard to argue that all that time and waiting isn't worth it when it tastes like this.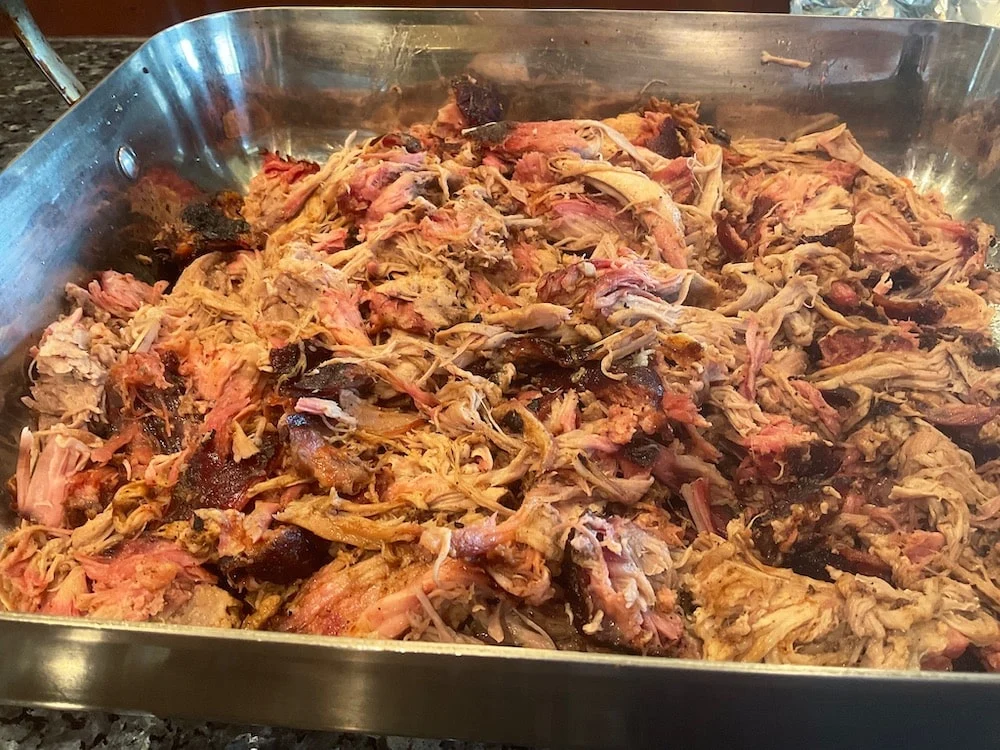 Our new Yoder YS640S definitely shone throughout the process and made start up, smoking and cleaning up ultra easy. I should note that we did end up topping up the hopper with pellets several hours in. AS we get acquainted with this machine, we're finding that it uses about 1 1/2 lbs. pellets per hour, so for a huge smoking day like this one, simply filling once isn't enough. Something to keep your eye on.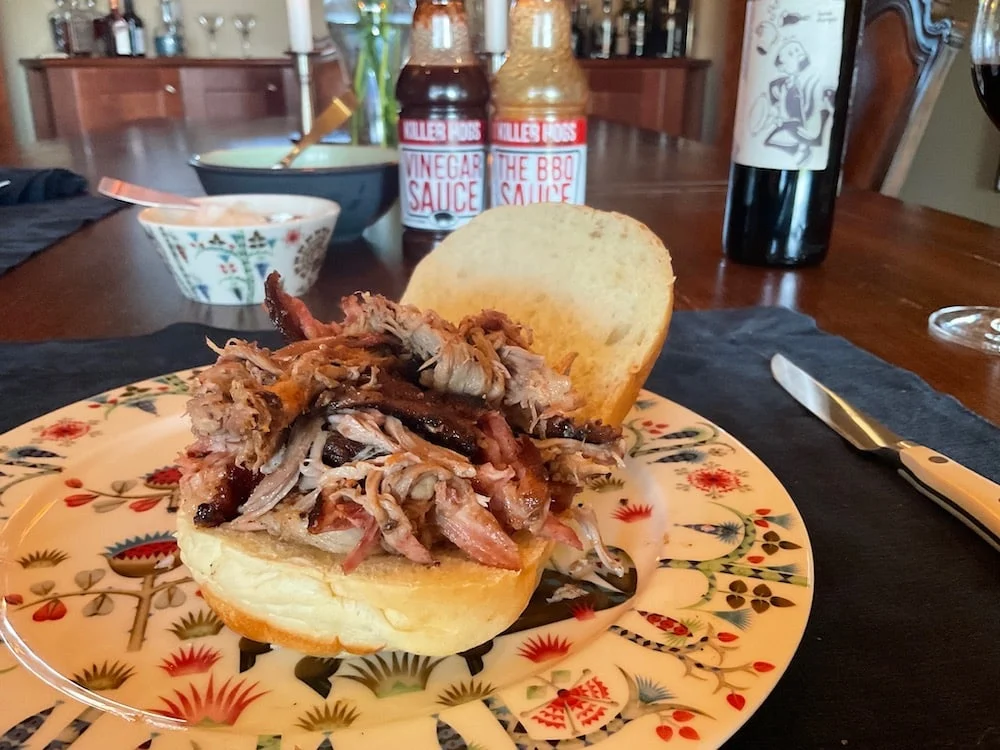 All in all we buy the logic of Reed's no-wrap method. The meat was certainly buttery tender, perfectly infused with smoke, with a pleasing bark. It is a long process though.
You'll notice that in Reed's video, he puts his roast on overnight aiming to serve pulled pork at lunch. So, you're sleeping during a lot of the waiting time, and not really tense about whether it will be done or not. Putting it on in the morning and aiming for dinner – even a later one – got a little tense as we started to wonder if we'd ever get around to eating. We had no choice but to bump up the temp to push it along this time.
Next time, we're planning on raising the smoker's temp from 200 to 225 after about 5 hours, then moving it up to 250F if need be. This might help us get to the more ideal 195F internal temp – and sooner. We'll let you know how it goes!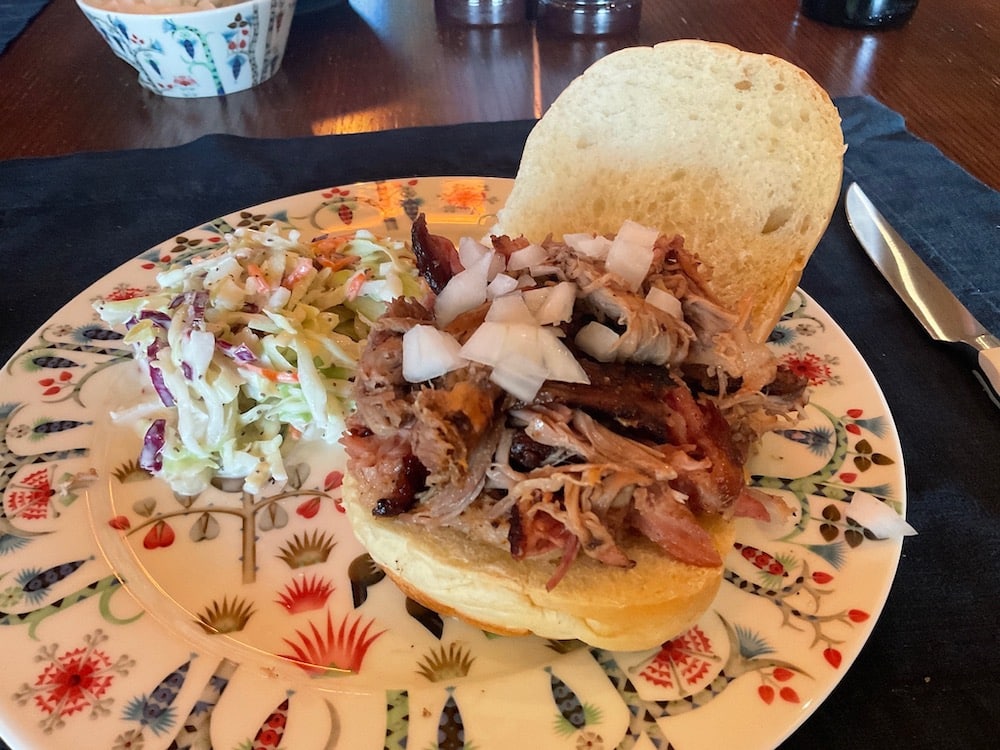 Great results from this method and our first time doing pork shoulder on our Yoder YS640S. More Yoder experiences coming soon…