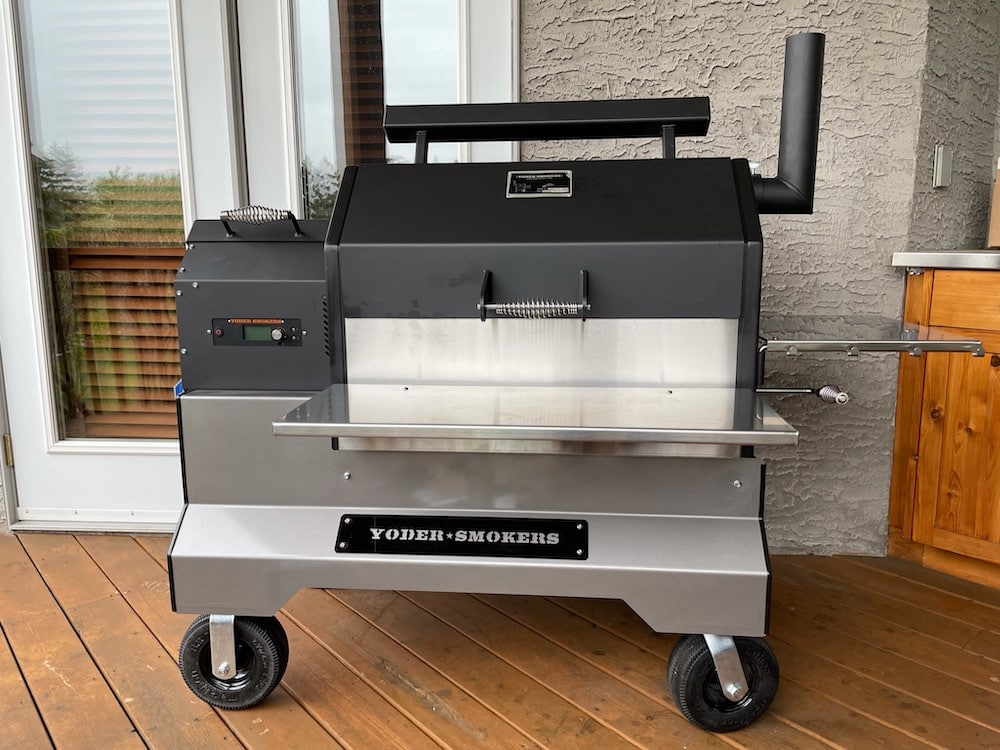 There's a new addition to our outdoor kitchen, and it's a serious piece of equipment. Our Yoder YS640S Competition Smoker has arrived. It's big, heavy, solid, and very impressive. We thought you'd enjoy an 'unboxing' tour and a few comments about the unit.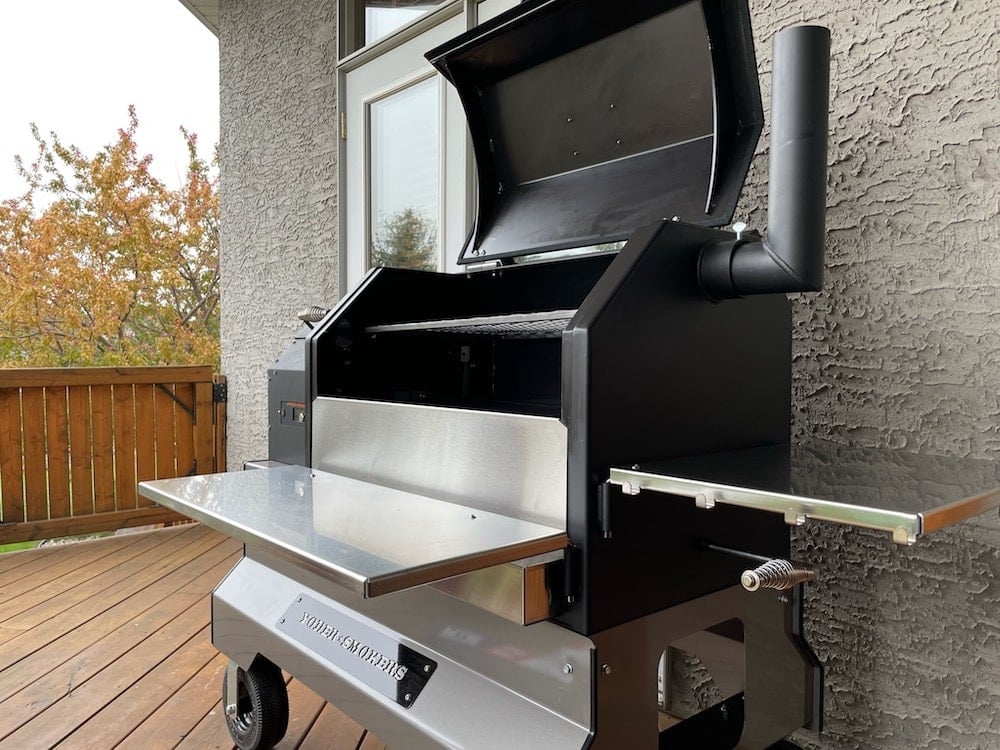 So, we got it up on the deck and love that despite the beefiness of this competition-worthy wood pellet smoker, the YS640S fits surprisingly well on our deck. And it's so well-built that it really is an attractive thing (if you're into grills, of course). Speaking of looks, we chose the black and silver style, but a flashier orange and black option – as well as custom cart colours – is also available.
As a competition grill, it's meant to be mobile. We like how even if we're staying put and smoking at home, the solid tires make it easy to pull the unit away from the wall and reposition when desired.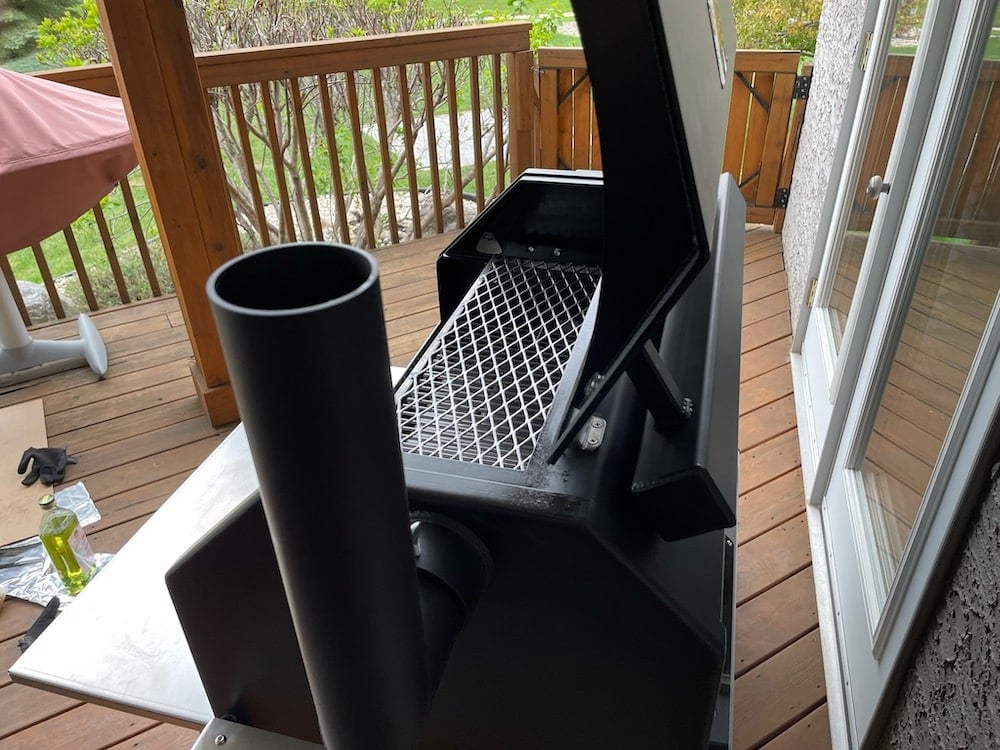 Of course, what really matters is how it performs. We were drawn to the YS640S for the promise of top-notch slow-and-low cooking, and the ability to sear at extreme temps. So far it's met and exceeded our expectations for ease-of-use, clean-up and most importantly, results. (Cooking and food-related articles coming soon with mouth-watering pics.)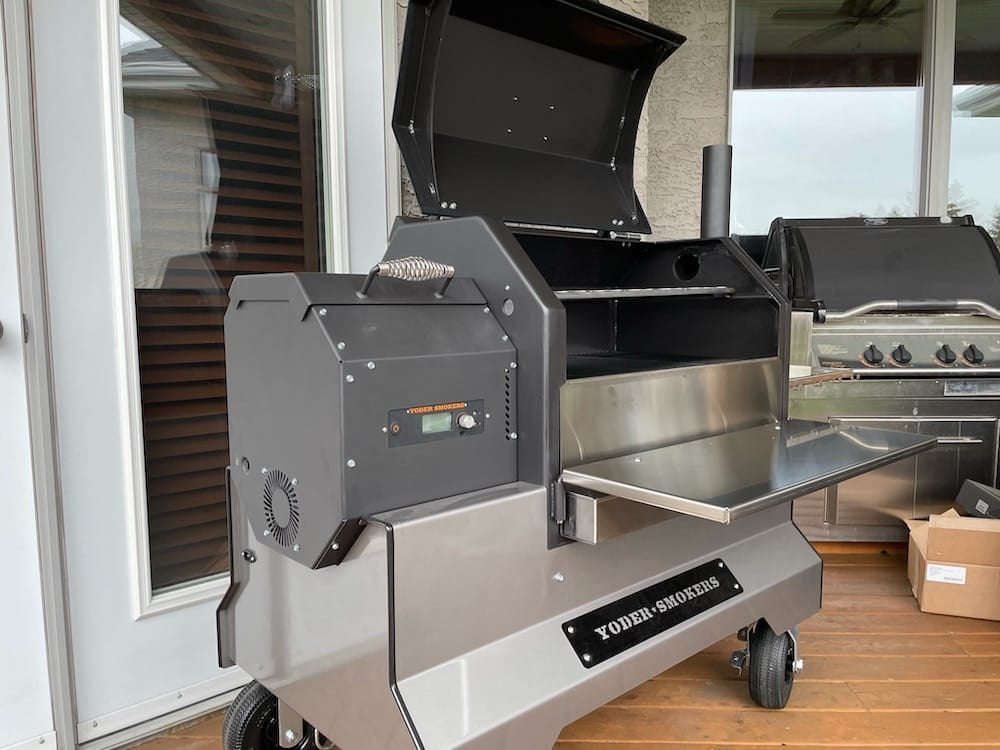 We ordered our YS640S through our local barbeque supply dealer, Luxe Barbeque Company. They had it pre-assembled so that on delivery other than popping on the front and side shelves, there was little for us to do. The delivery was definitely a two-person job (the machine weighs in at a cool 418 lbs). Getting it into place was not without its challenges – the guys had to negotiate a few steps up onto the deck (thanks, guys!).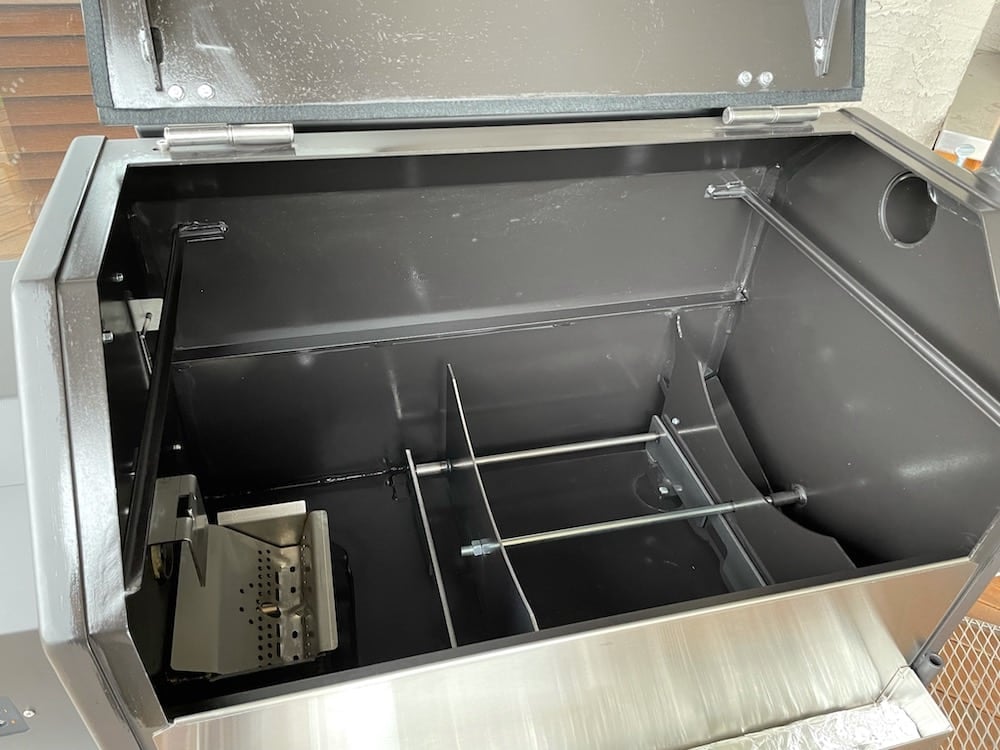 The shot above of the cooking chamber shows off the awesome construction of the YS640S – and its spaciousness. You can immediately picture smoking multiple pork shoulders, chickens or turkeys if the need arises, all super-doable with this sort of capacity.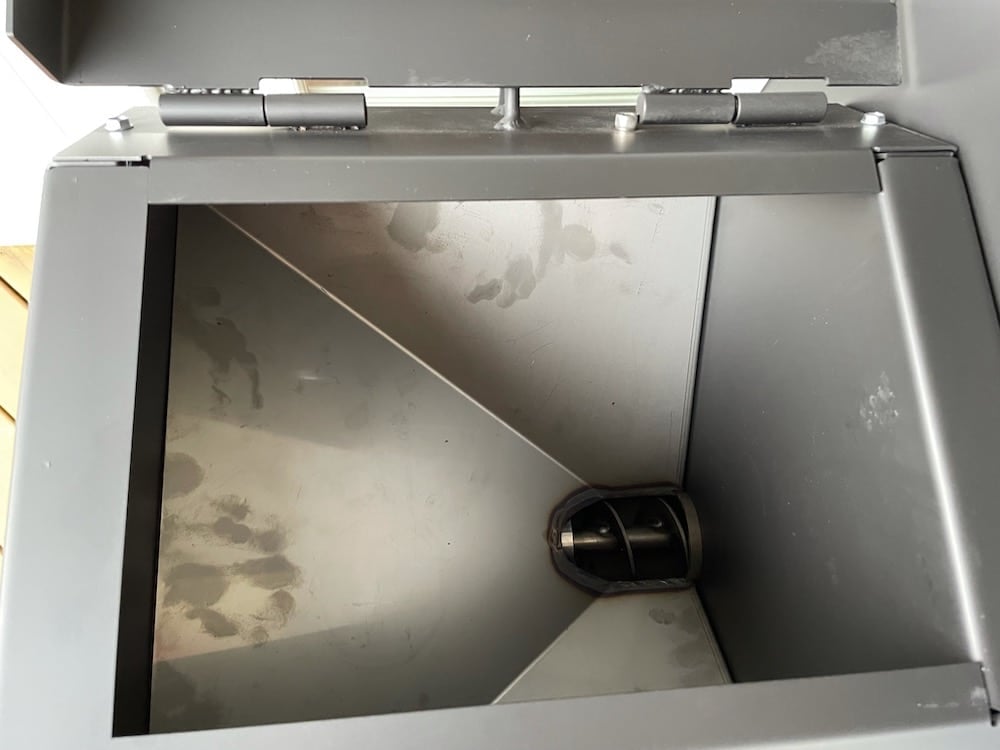 Here's the hopper where you drop in your wood pellets. The auger at the bottom automatically feeds the pellets into the fire pot within the chamber.
And here's said fire pot in action: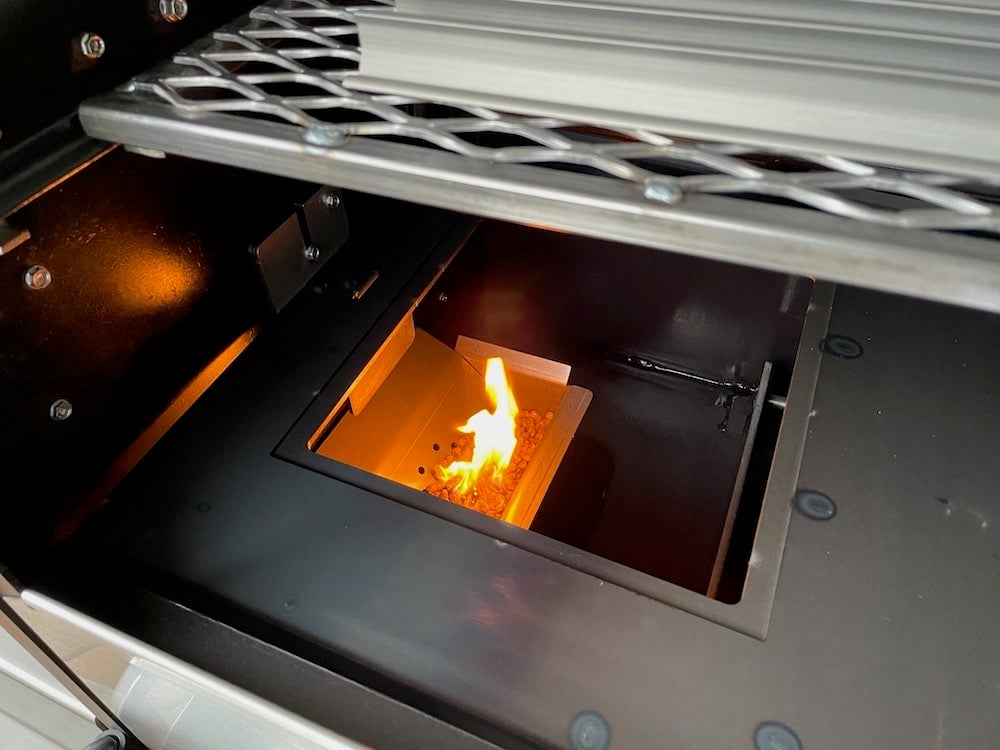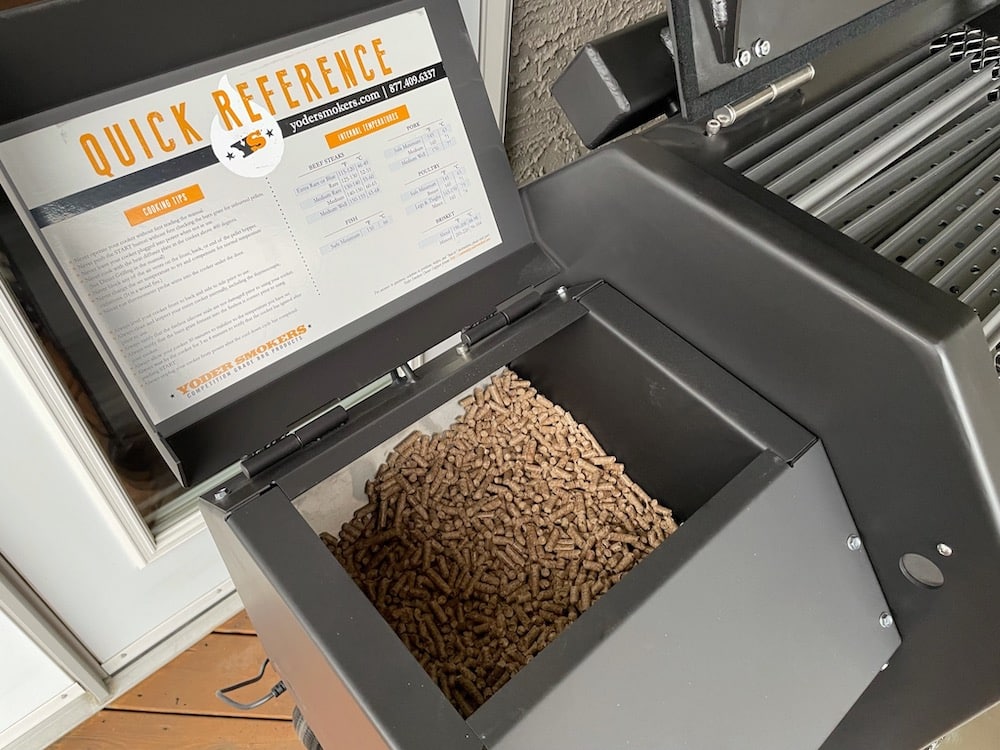 The hopper holds 20 lbs of pellets. We've already taken advantage of Luxe's pellet-delivery service to keep the fires burning, so to speak. So far, so good.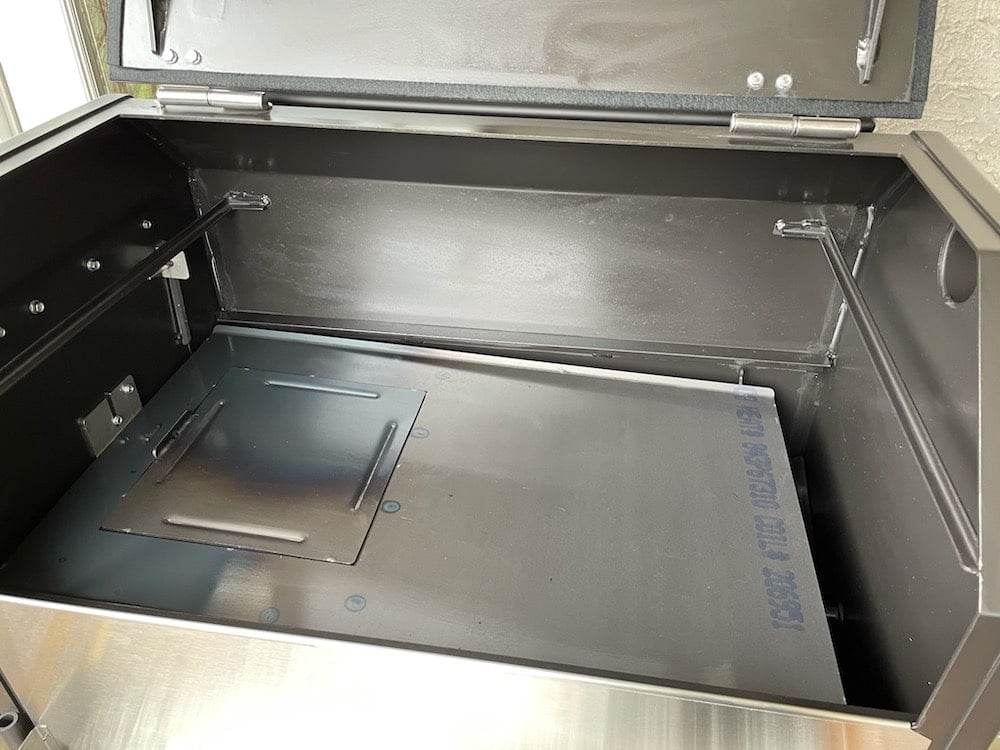 Above is a photo of the the Two-Piece Heat Diffuser with Access Door. The 'access door' is the removable piece directly above the fire pot. This insert is the critical piece that gives you the ability to smoke at low temps, then to crank things up and sear. With the door above in place, you can maintain low temps for hours and hours in the chamber.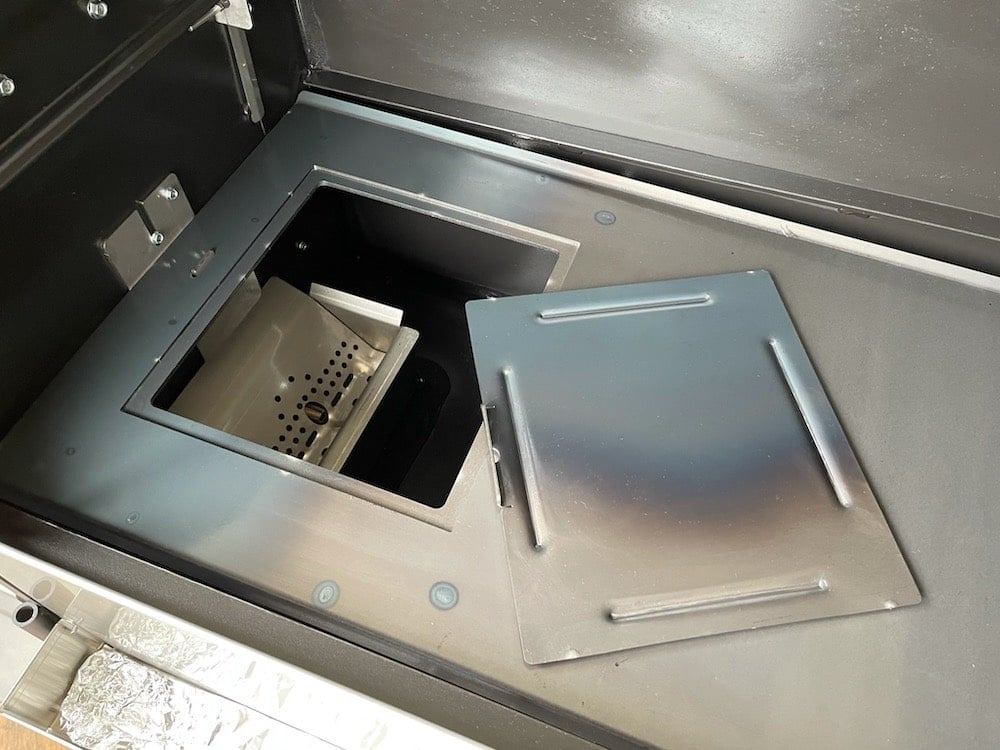 Remove the door as shown above, now you're able to crank that heat, place grill grates directly above the fire pot, and sear your meat at scorching temps surpassing 700 degrees Fahrenheit (Yup. We've done it. And it heats up fast).
An important note on the two-piece diffuser with access door: this part is supposed to be standard-issue with current YS640S units. However, on arrival ours came with the one-piece. Our dealer informed us that some of the newer models have still been shipping with the old part. He made sure we got the correct piece a.s.a.p. – but, be warned. Here's the thing: you really can't sear without the two-piece and its access door, and sold separately it will cost you a few hundred dollars. So, this is something to check as soon as you get your machine – it's supposed to be included!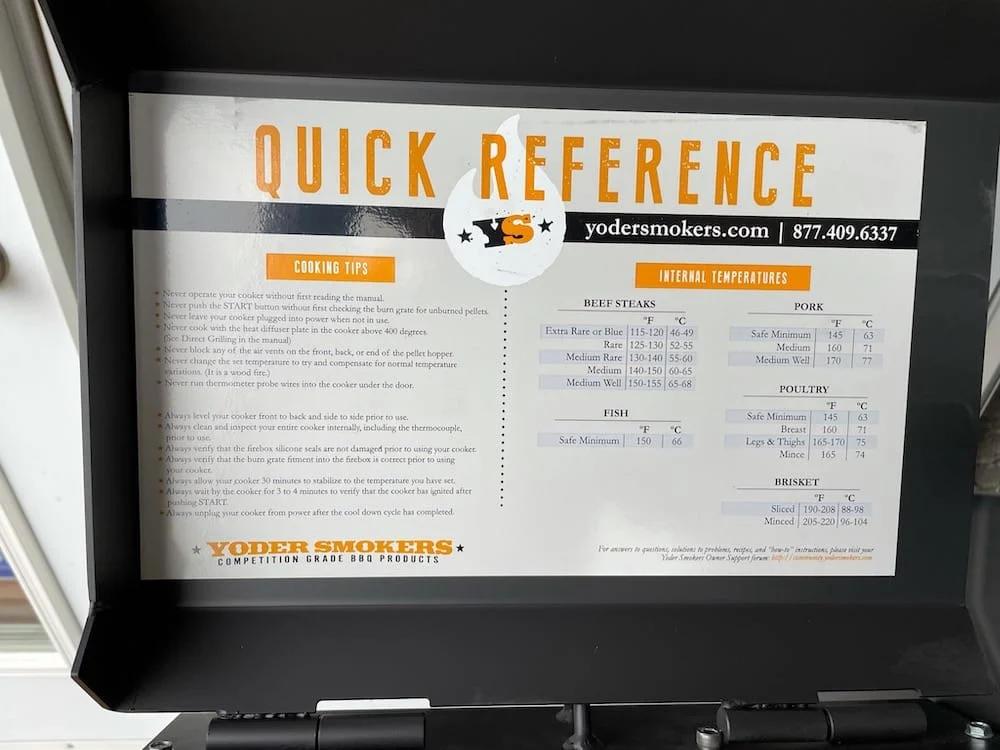 Above is a shot of the underside of the hopper lid, with some handy cooking tips and a meat temperature chart.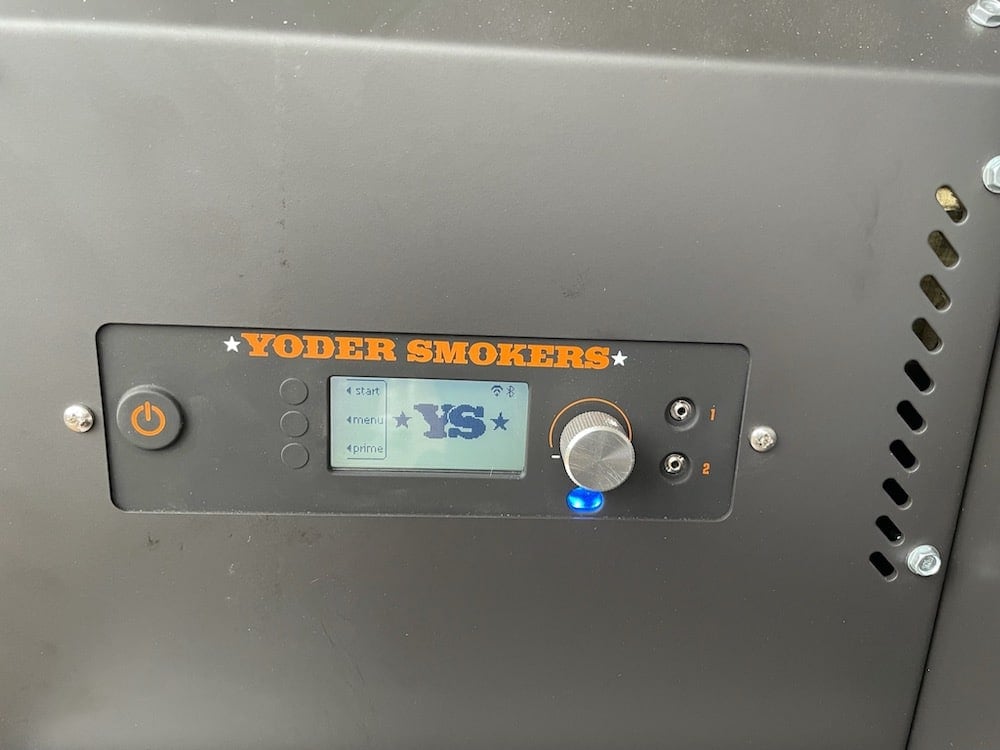 Here's digital controller unit, located on the front side of the hopper. This is where you fire up the grill and monitor the temperature of the chamber and the meat, too (with a probe) if desired.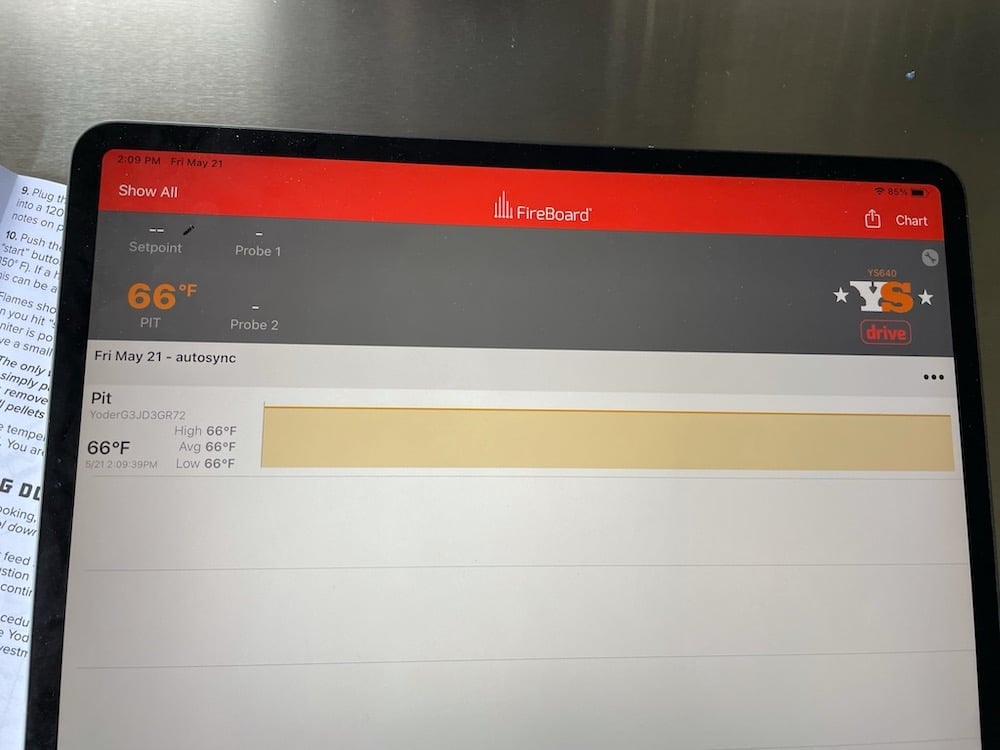 So this is pretty cool – the YS640S comes outfitted with FireBoard's awesome wireless temperature monitoring technology letting you monitor grill and meat temps using an app on your phone or tablet. Not only that, you can create cooking programs with target times and temps, view graphs, get notifications, and keep an ongoing historical log of your sweet outdoor cookery. We've talked about using FireBoard digital thermometer before and have always been impressed; the fact that the YS640S has this technology built right in is a huge plus in our books.
Coming soon: several articles showing the YS640S in action where we'll do a deeper dive into the smoker's features and our thoughts on function so far. For now, we'll leave you with this tasty teaser shot of a 10lbs. pork shoulder we smoked on our YS640S according to the expert directions of Killer Hogs' Malcolm Reed. Grill on, nation.